CCPC urges consumers to return clay product to Flying Tiger stores
March 10, 2023
The CCPC has today issued a recall of the 'Skumvoks light clay mix' product which was sold in Flying Tiger stores around Ireland. The product consists of small tubs of modelling clay in different colours. The affected model numbers are 3036547 and 3014809. The model number is printed on the product packaging just above the barcode.
The product was found to contain unsafe levels of boron when tested. Boron can be safe when used as recommended, however, high levels of boron may result in skin irritation, diarrhoea or vomiting. There can also be long-term impacts on children's health.
The CCPC advises any consumers who have bought this product to stop using the product immediately, dispose of it or return it to Flying Tiger.
Gráinne Griffin, Director of Communications, says:
"There are almost 30,000 of these products in homes around the country. Given the number of products involved and the health issues that increased levels of boron may cause, we're urging consumers, particularly parents, to check any 'Skumvoks light clay mix' product they may have in their home to find out if they are affected by this recall."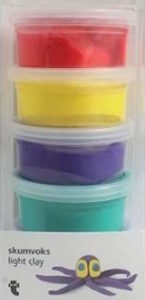 For more information read the Skumvoks light clay mix recall notice.
Return to News
Haven't found what you're looking for?