Flying Tiger Copenhagen recalls Skumvoks light clay mix
March 10, 2023
Flying Tiger Copenhagen recalls Skumvoks light clay mix.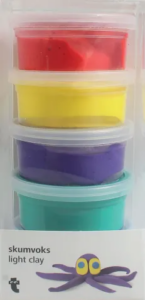 The risk presented by the product is chemical. The product contains increased levels of boron. Exposure to increased levels of boron may result in skin irritation, diarrhoea or vomiting. There can also be long-term impacts on children's health.
The brand is Flying Tiger Copenhagen. The type/number of models are 3036547 and 3014809. All batches are affected. The barcode is 0200030148097.
There are approximately 29,421 affected products in the Republic of Ireland.
What to do:
Customers should stop using the product immediately and return it to any Flying Tiger Copenhagen for a full refund.
Flying Tiger's customer care can also be contacted at email address customer-support@flyingtiger.com or by using the web form available here.
Return to Product Recalls
Haven't found what you're looking for?