Yangjiang Baogangtang recalls motorcycle helmet
August 3, 2022
Yangjiang Baogangtang Trade Industry Co Ltd is carrying out a recall of their YS, HELMO, CGM, SKA-P, TIFONE, and BKS Motorcycle Helmets with visors.
A safety issue has been identified with the affected products, where the safety helmet does not meet the requirements of ECE R22. This is the minimum safety requirements of a motorcycle (or scooter) helmet. The impact absorption capacity of the helmet is also insufficient, and in the event of an impact, users may suffer head injuries.
Due to the online availability of these products, they may have been purchased by consumers in the Republic of Ireland.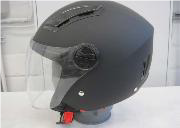 What to do:
If you purchased one of these products, please discontinue use immediately, and return it to your place of purchase.
Return to Product Recalls
Haven't found what you're looking for?