Woodies recalls Make It Spooky by Woodies Inflatable Child Unicorn Costume
January 24, 2023
Woodies is carrying out a recall of Make It Spooky by Woodies Inflatable Child Unicorn Costume.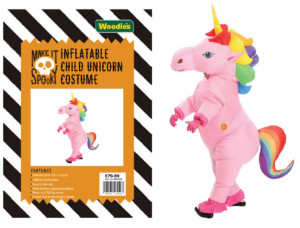 This toy has been recalled as it does not comply with the Toy Safety Regulations. The product does not have a CE mark and likely presents a serious risk to children.
The Brand is Make It Spooky by Woodies. The Product Code is 1198093. The Bar Code is 5099288239566. The Model Number is CHM1909.
There are approximately 77 products in the Republic of Ireland.
What to Do
If you have purchased this costume, please keep it away from children and please return it to your nearest Woodies store where a full refund will be provided.
For information on this recall, please contact Woodies on 01 427 5300 or by email on customerservice@woodies.ie
Return to Product Recalls
Haven't found what you're looking for?