Whirlpool extends recall to include three further models of 'Hotpoint' washing machines
February 20, 2020
Whirlpool UK Appliances Ltd & Whirlpool Corporation is extending its recall campaign to include three further models of 'Hotpoint' washing machines.
The safety issue identified remains in line with the earlier notification (December 2019), which you can find on the CCPC's website at the following link.
The updated table below identifies all of the product model codes which are affected by this recall campaign and also includes the three new additional models which form part of the extended campaign: 'WMFG 741 G UK', 'WMAQC 641 P UK' and 'WMAQG 741P UK'.
COMMERCIAL CODE (MODEL)
BRAND
FML 742P UK
WMAOD 743G UK
WMAOD 743P UK
WMAQB 721P UK.M
WMAQC 641P UK

(NEW MODEL ADDED)


WMAQC 641P UK.M
WMAQC 741G UK
WMAQC 741P UK
WMAQC 741P UK.M
WMAQF 621G UK
WMAQF 621P UK
WMAQF 641 P UK.M
WMAQF 721G UK
WMAQF 721P UK.M
WMAQG 741P UK

(NEW MODEL ADDED)


WMAQL 621G UK
WMBF 742G UK
WMBF 742K UK
WMBF 742P UK
WMBF 742P UK.M
WMBF 763P UK
WMEF 722 BC UK
WMEF 742 P UK
WMEUF 722P UK
WMEUF 743G UK
WMEUF 743P UK
WMFG 741G UK

(NEW MODEL ADDED)


WMFG 741P UK
WMFG 741P UK.M
WMFUG 742 P UK.M
WMFUG 742G UK
WMFUG 742P UK
WMFUG 842P UK.M
WMJLF 842P UK
WMJLL 742P UK
WMSAQG 621P UK
WMXTF 742G UK
WMXTF 742K UK
WMXTF 742P UK
WMXTF 742P UK.M
WMXTF 842P UK.M
WMYL 7151PS UK

Hotpoint

XWA 81252X K UK
XWA 81252X W UK
XWD 71452X K UK
Indesit
It is estimated that 30 units of these additional models are affected – on the Irish market.
What to do:
To avoid all risks associated with the use of affected models, consumers should unplug their washing machines and not use them. If nevertheless, consumers do use their appliance, they should only use cold water cycles of 20oC or lower as this significantly reduces the risk. Whirlpool is advising all customers who purchased a Hotpoint or Indesit washing machine since 2014, to contact them immediately in order to identify whether their product is affected.
An online model checker tool is available on the Whirlpool website at https://washingmachinerecall.whirlpool.ie/. Alternatively, you can contact Whirlpool's Customer Care by telephone on 0818 903 281, with your product's model number to hand.
Locating the Model Number
The appliance model number can be found on the front of the machine (in the door recess on the cabinet front panel). If you open the front door then the label should be visible. However, if the front label is missing, there is a second label on the rear of the machine.
The image below provides for the approximate locations of labels which displays the model number.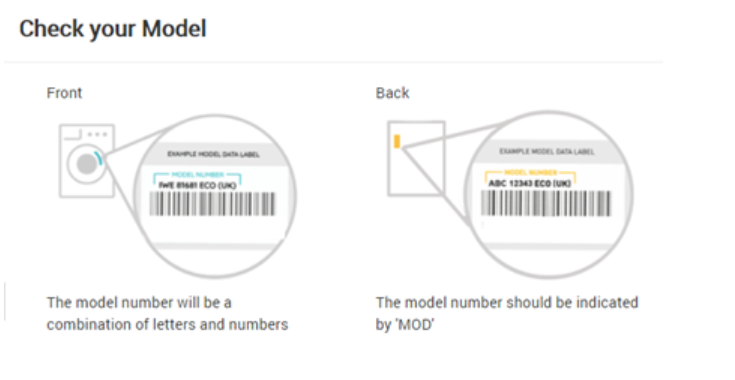 Return to Product Recalls
Haven't found what you're looking for?