Vtech recalls infants 'Pack & Go Travel Mobile'
May 2, 2018
Vtech Electronics Europe plc is carrying out a voluntary recall on infants toy Vtech Pack & Go Travel Mobile (A motorised mobile with spinning animals).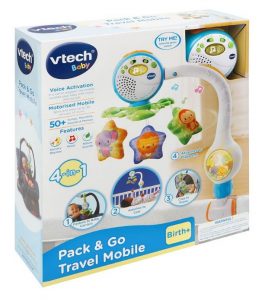 An issue has been established and has been described as follows:
"the cot attachment clamp which may crack after prolonged usage. If strong pressure is exerted on the mobile it is possible the cracks may weaken the clamp and the mobile may fall from the crib"
This product has been on sale in the Republic of Ireland in various toy and nursery stores throughout the country.
What to do:
If you have this product, then please return it to the store where you purchased it. The retailer should be aware of this recall and provide a full refund.
Return to Product Recalls
Haven't found what you're looking for?