Tractor Ted Recalls Tractor Ted Water Bottle and Digger Water Bottle
May 31, 2023
Tractor Ted is carrying out a recall of Tractor Ted Water Bottle and Digger Water Bottle.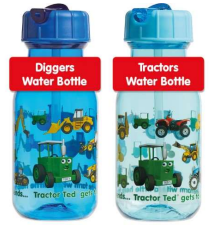 The product presents a choking hazard as there is a chance of a defect in the spout of the water bottle, which may result in small parts breaking off. These small parts may be placed in the mouth and swallowed, causing a young child to choke.
The brand is Tractor Ted. The batch number is JM1529. The type/number of model are Diggers Water Bottle and Tractors Water bottle. The SKU's are WATBOTDIG and WATBOTFM.
There are approximately 32 affected products in the Republic of Ireland.
What to do:
If you purchased one of these products after 1st September 2022, please discontinue use immediately and keep it out of the reach of children. Please email the Tractor Ted customer care team directly at customer-care@tractorted.com or alternatively, you can call +44 1373 834500 for more information on returns and refunds.
Return to Product Recalls
Haven't found what you're looking for?