TJX Ireland Unlimited Company t/a TK Maxx recalls certain Tri Coastal Design children's drink bottles
June 4, 2020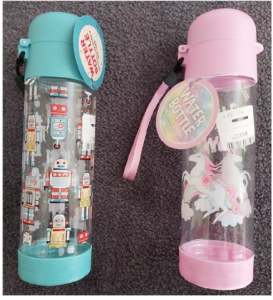 TJX Ireland Unlimited Company t/a TK Maxx is carrying out a voluntary recall of certain Tri Coastal Design children's drink bottles. The water bottles are sold with four possible designs – dinosaur, robots and two unicorn variants.
8000 units of the water bottles in question were sold between December 2019 and March 2020.
The affected styles feature a rubber nib in the lid of the bottle which could pose a choking hazard.
TJX Ireland Unlimited Company has identified that "The bottle is constructed whereby a small plastic nib is held in the lid of the bottle. When the lid is shut the nib is held against the mouthpiece to provide a water tight seal as to not let the water out when upside down. The rubber nib may fall out of the lid and onto the mouthpiece, to which a child then may drink with the rubber nib in their mouth."
What to do:
If you believe you have purchased any of the affected Tri Coastal Design children's drink bottles please discontinue the use of the product immediately. Return the item to the any TK Maxx store where a full refund will be given.
For further enquires please contact customer service on 01 2476126 or email customerservice@tjxeurope.com
Return to Product Recalls
Haven't found what you're looking for?