TJX Ireland Unlimited Company t/a TK Maxx and Homesense recalls Pink Sky The Glow Up "12ft Flexible LED Strip Lights"
September 14, 2022
TJX Ireland Unlimited Company t/a TK Maxx and Homesense is carrying out a recall of Pink Sky The Glow Up "12ft Flexible LED Strip Lights"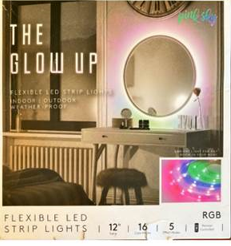 The risk associated with the product is that of choking. This product may have a fault with the battery compartment on the remote control. The battery compartment may be opened too easily which could allow a child to access the battery.
The brand is The Glow Up. The model is 12ft Flexible LED Strip Lights. The batch number is MA1063-12-MUA.
The affected product was available for purchase from October 2021 until December 2021.
There are approximately 500 affected products in the Republic of Ireland and United Kingdom. Given the availability of this product, it may have been sold to customers in the Republic of Ireland.
What to do:
Customers should stop using the product immediately and return it to any TK Maxx or Homesense store for a full refund.
If customers have any further queries in relation to this recall, please email TK Maxx at customerservice@tjxeurope.com or call on 01 2476126.
Return to Product Recalls
Haven't found what you're looking for?