TJX Ireland Unlimited Company t/a TK Maxx and Homesense recalls Aroma Home Plug-In Salt Lamp Night Light
February 1, 2023
TJX Ireland Unlimited Company t/a TK Maxx and Homesense recalls Aroma Home Plug-In Salt Lamp Night Light.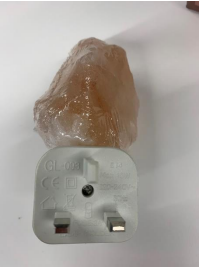 The risks presented by the product are electric shock and fire. The plug pin dimensions and construction of the product do not meet the required safety standards. The construction of the product allows moisture from the salt lamp to drip onto metal components with mains voltage supply. This can lead to electrocution or fire.
The brand is Aroma Home. The type/model number is GL093. The batch numbers are 700540, 700545, 700549 and 700552.
The affected product was available for purchase from December 2022 until January 2023.
There are approximately 216 affected products in the Republic of Ireland.
What to do
Customers should stop using the product immediately and return it to any TK Maxx or Homesense store for a full refund.
If customers have any further queries in relation to this recall, please email TK Maxx at customerservice@tjxeurope.com or call on 01 2476126.
Return to Product Recalls
Haven't found what you're looking for?