The Source recalls remote controlled lightbulb
May 24, 2022
The Source Wholesale is carrying out a recall of their RED5 Remote Controlled Lightbulb.
The affected products were manufactured between April 2021 and July 2021.
A safety issue has been identified with the affected products, where the lightbulb adapter has exposed electrical parts, and if touched by the user could result in electric shock.
There are approximately 78 affected products in the Republic of Ireland.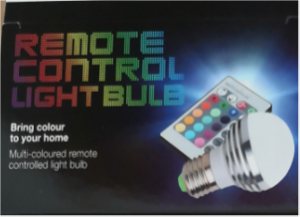 What to do:
If you purchased one of these products, please discontinue use immediately, and return it to your place of purchase to discuss available options.
In Ireland these products were available to be purchased from Omg Entertainment Limited, and Henry's Trading Company Limited.
Return to Product Recalls
Haven't found what you're looking for?