The North Face recalls Teens' Oversized Hoodie
January 4, 2023
The North Face is carrying out a recall of the Teens' Oversized Hoodie.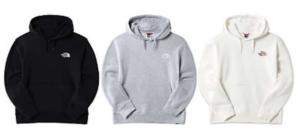 The risk associated with the product is that of strangulation. The product has drawstrings with free ends in the hood. Drawstrings can become trapped during various activities of a child leading to strangulation.
The brand is The North Face.  The product code is 7X4U. The affected product was available for purchase from July 2022.
There are approximately 68 affected products in the Republic of Ireland.
What to do:
The North Face are asking customers to return the product to their place of purchase for a full refund.
The North Face can also arrange collection; please contact tnf.ukshop@vfc.com to organise this.
Return to Product Recalls
Haven't found what you're looking for?