Tesco recall slow cooker
February 3, 2016
Tesco is recalling its 3L and 5.5L Slow Cookers after identifying that on a very small number of units, the plug may unexpectedly break, exposing live parts – posing a risk of electric shock.
Affected units:

Units fitted with with KDJ branded plug only.
Units with batch code running from 150501 to 151031 (Format YYMMDD).
Model number: SCSS12/SCSS13
2150 units were sold from 1 July 2015 to 31 December 2015.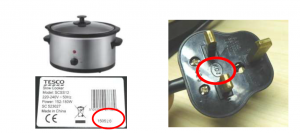 What to do:
If you have an affected unit, PLEASE STOP USING IT IMMEDIATELY. Return the slow cooker to the nearest Tesco Extra or Superstore for a full refund or replacement.
If you have any further queries, please phone Tesco Customer Services on: 1850 744 844.

Return to Product Recalls
Haven't found what you're looking for?