Tesco recall Carousel 'Drive and Talk' toys.
April 12, 2018
Tesco Ireland is carrying out a voluntary recall of their Carousel 'Drive and Talk' Fire Engine, Police Car, and Ambulance toys. 1048 of these toys have been placed on the Irish market between October 2017 and March 2018
Tesco advise that "…the small directional wheel underneath the vehicle can become detached from the body of the vehicle. The small wheel has the potential to become a choking hazard."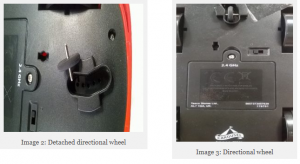 What to do
Please do not continue to use this product. Please return the affected products to your nearest Tesco store where a full refund will be given.
If you require further details, please contact Tesco Ireland Customer Services directly on: 1850 744 844
Return to Product Recalls
Haven't found what you're looking for?