Target Retail Promotions Ltd recalls 'iN Tech Dual USB Mains Adaptor'
July 23, 2019
Target Retail Promotions Ltd is carrying out a voluntary recall of it's iN Tech Dual USB Mains Adaptor product. The following retailers have stocked these products:
| | |
| --- | --- |
| Retailers | County |
| Westlink Service Station Pouladuff | Cork |
| Allens Service Station Belgooly | Cork |
| Nolans Service Station Tralee | Kerry |
| O Reillys Mace Service Station Blackpool | Cork |
| Hennessys Service Station Whites Cross | Cork |
| Comeragh Service Station Davis Road Clonmel | Tipperary |
| Gortboy Service Station Kilmallock | Limerick |
| Firgrove Service Station Bishopstown | Cork |
| Partsworld Motor Factors Irishtown Bandon | Cork |
A safety issue has been identified whereby due to inadequate internal wiring casing can become separated from the plug and cause electric shock.
The recall affects 156 products in Republic of Ireland.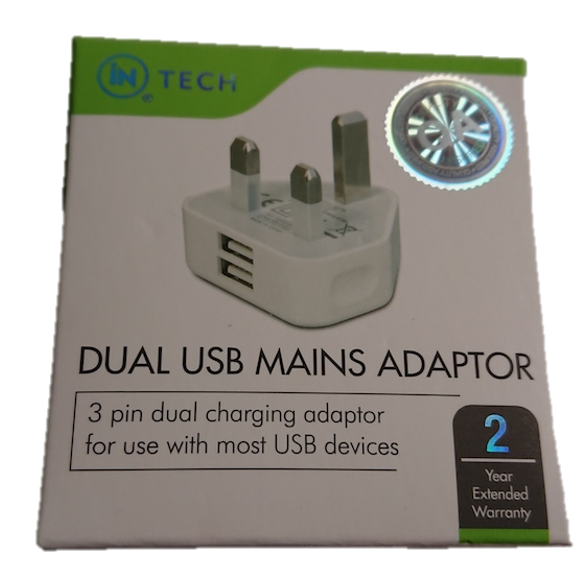 What to do:
Target Retail Promotions Ltd have contacted supplied customers informing them of this recall. If you believe you have purchased the affected product then you are advised to stop using it immediately. Consumers should return the product to the retailer from whom they purchased the product, where a full refund will be provided.
If you have any further queries in relation to this recall, please contact Target Retail Promotions Ltd on 087 160 5516.
Return to Product Recalls
Haven't found what you're looking for?