SuperValu and Centra extends recall of 'Daewoo' branded electric blankets.
October 4, 2018
SuperValu and Centra is conducting a further voluntary recall of 'Daewoo' branded single bed and double bed sized electric blankets.
The models affected are:
Daewoo Double Electric Blanket Model HEA 1179
Daewoo Single Electric Blanket Model HEA 1178
(Date Code EP103849-0617)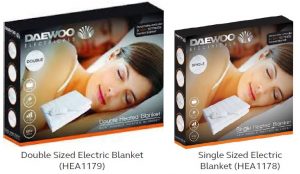 Image 1
SuperValu and Centra have become aware that some of the above products may have a
manufacturing defect. This defect may cause the blankets to spark or go on fire. The products and Date Code affected were sold in SuperValu and Centra between January and March 2018.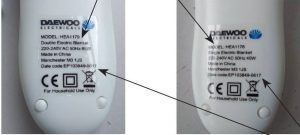 Image 2
What to do:
If you own a Daewoo Double or Single Electric Blanket, please check for the model numbers HEA1179 and HEA1178 as shown in the diagram. 
If you have any of these products with the affected date code EP103849-0617, please
stop using immediately and return the product to the point of purchase for a full refund.
If you have any queries, please contact the customer care line on: (021) 4824320.
Return to Product Recalls
Haven't found what you're looking for?