Sony Bravia LCD televisions Safety Alert
October 14, 2011
Sony has become aware of a potential issue affecting a number of BRAVIA LCD TV models, which have been sold in Ireland since June 2007.  A small number of products contain a component affected by a quality issue, which in a rare number of cases might over-heat and ignite inside the television and possibly result in the melting of the upper casing of the television.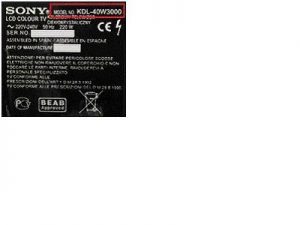 The model numbers affected are:
KDL-40D3400,
KDL-40D3500,
KDL-40D3550,
KDL-40D3660
KDL-40V3000,
KDL-40W3000,
KDL-40X3000,
KDL-40X3500
You can find the model label on the back of your TV set.
This issue may affect approximately 8,000 televisions in Ireland. To date, there have been no reports of any damage to other property or physical injuries.
Sony has voluntarily started a programme to perform a free inspection and, if necessary, a free repair.
What to do:

If you own one of the products mentioned above and if you notice any abnormality (e.g. unusual noise, unusual smell or smoking), turn it off immediately, unplug the power cable, stop using the TV and turn the power off.
If you think you own one of the products mentioned above please contact your nearest Sony Service Centre to arrange for an inspection. A Sony service representative will visit your home  to check your TV, and will repair it if it has the affected component.
Find your nearest Service Centre
Return to Product Recalls
Haven't found what you're looking for?