Shop Direct Ireland Limited t/a Very recalls BADABULLE Bath Seat
May 2, 2023
Shop Direct Ireland Limited t/a Very is carrying out a recall of BADABULLE Bath Seat.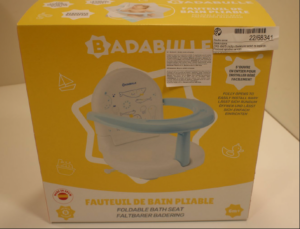 There are several risks associated with the product:
The gap between the seat and the plastic board can cause finger entrapment.
The board can separate from the seat, causing injuries.
The sticker on the product can come loose and cause choking.
Inadequate warning is provided of the risk of drowning when leaving the child sitting unattended on the bath seat during bathing.
The brand is BADABULLE. The type/number of model is B022003. The affected product number is UZRHU batch code 051221. The bar code is EAN 661276173835.
There are 3 affected products in the Republic of Ireland.
What to do:
If you purchased one of these products, please discontinue use immediately and keep it out of the reach of children.
Return the product to Very for free by using Parcel Connect. A full refund will be provided by the original method of payment. If you have any further questions, please contact the dedicated customer service team on 1800 811 222 8am-6pm Monday-Friday, and 9am-4pm on Saturday or email escalations@theverygroup.com
Return to Product Recalls
Haven't found what you're looking for?