Sebra recalls baby activity centre
March 8, 2022
Sebra is carrying out a recall of the following Baby Activity Centre, which was sold by Bygeebo Limited in Ireland.
A safety issue has been identified where the strings holding the toys become weak over time. When exposed to sunlight, the strings will become so weak that the child is able to pull off the toy. There is a risk that the toy will break and become small parts, becoming a choking hazard.
There are approximately 11 affected products in the Republic of Ireland.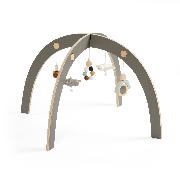 What to do:
If you believe that you may have purchased an affected product, discontinue use immediately and discard the product immediately. You may wish to contact the store from where you purchased this product to see if there are any remedies available to you.
Return to Product Recalls
Haven't found what you're looking for?