Safety alert on Bugaboo Bee strollers
November 29, 2011
Bugaboo has issued a safety alert on their Bee stroller range (pushchair) for newborns and toddlers up to 17kg. There is a small chance that the stroller's front wheels could jam, which could potentially make the stroller tip over.
What to do:
The models affected were manufactured with a production date January 2011 up to and including September 2011.
If you have one of these affected strollers please contact the retailer where you purchased it for a free replacement set.
If you have registered your stroller, Bugaboo will proactively contact you and send out a wheel replacement set.
If you have not registered, you can fill out a contact form on the Bugaboo site.
In the meantime we strongly advise you lock the swivel wheels of the Bugaboo Bee when in use. Note that the front wheels will then no longer swivel and will impair the strollers movement.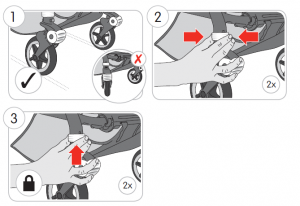 For further information on this alert, please go to www.bugaboo.com.
Return to Product Recalls
Haven't found what you're looking for?