Russell Hobbs recall
December 9, 2014
Russell Hobbs has identified an issue with a small number of their irons. There is a risk that the flex may fail.
Only the following model numbers are affected:
18651, 18742, 19220, 19221, 18743, 19840, 18720, 15081,
19222,  19400, 20260, 18741, 20280, 20550-10, 20560-10.
This model number can be found on the underside of the heel of the iron, where you will find a rectangular shaped label which contains a five digit code.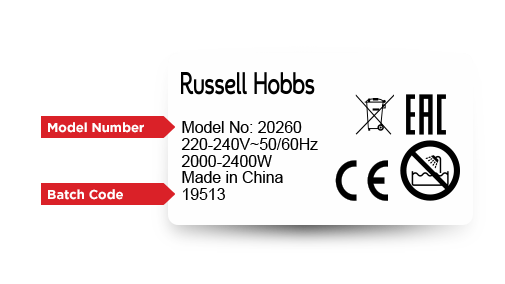 If you have one of the models listed above, you will also need to check the batch code, which is shown in the diagram above.
If the batch code starts with 045 through to 365 and ends with 12 or starts with 001 through to 195 and ends with 13, then you have an affected iron.
What to do
If you do have an affected iron, Russell Hobbs advises you to stop using it immediately. Please contact their customer service department on telephone number 01 429 5140 (the opening hours are 9am to 5pm Monday to Friday), who will advise you of how to return your iron for a replacement or full refund of the purchase price
No other Russell Hobbs products or irons outside of the above codes are affected by this recall.
Return to Product Recalls
Haven't found what you're looking for?