Recall of Tiger Wooden Robot
May 28, 2015
Tiger Stores Ireland are recalling their Wooden Flexi Robot. Some of the models, with ears on the side are defective and the ears may fall off thus causing a choking hazard. The affected model has the following batch code 73722, item no. 1701300.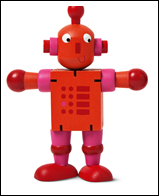 What to do:
If you have purchased this item please return it to your nearest Tiger store where a full refund will be given. No receipt is required. Further details about the recall are available through Tiger's head office by email: tiger@tiger.dk
Return to Product Recalls
Haven't found what you're looking for?