Recall notice relating to Out of the Blue soft rubber ball with liquid interior designed as the head of President Trump
September 2, 2020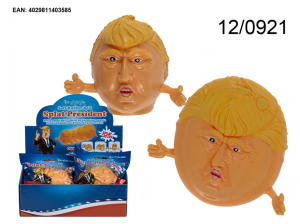 Description: A ball designed as the head of President Trump with arms, made of orange-coloured, soft, elastic, synthetic material, diameter: 5-7 cm, filled with a colourless liquid.
Article Number (found above the barcode on the back of the packaging): 12/0921
Barcode: 4 029811 403585
156 units of the above product were sold by multiple retailers in the Republic of Ireland. 
It has been reported that there is a possible microbial risk relating to Out of the Blue soft rubber ball with liquid interior designed as the head of President Trump.
The risk reported is that should the ball leak during play, liquid may escape that is microbiologically contaminated.
What to do:
If you believe that you may have purchased the affected product, discontinue use immediately and keep it out of the reach of children. You can return the item to the store in which it was purchased for a refund.  
Return to Product Recalls
Haven't found what you're looking for?