Product Safety Information notice relating to an 'Insta-Snow Powder' expandable toy sold online
May 26, 2020
A safety issue has been identified, whereby, a potential choking hazard and risk of injury exists. A child may swallow a cap full of powder, the cap causes an obstruction in the airway and the powder swells to more than the allowed 50% of original dimensions, exacerbating the problem, leading to the child choking.
This 'Insta-Snow 5225T Instant Play Snow Powder' expandable toy is mounted on cardboard with plastic covering and blue labelling.
The barcode on the product is 851724001213 and the batch number is #5225TEU. These products were sold online through the Amazon platform.
Approximately 301 units of this product have been sold to consumers in the Republic of Ireland.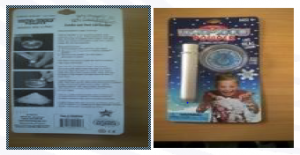 What to do:
If you believe that you may have purchased the affected product, discontinue use immediately and keep it out of the reach of children. You may wish to contact the online store from where you purchased this product to see if there are any remedies available to you. This can be done via your user account on the Amazon website.
Return to Product Recalls
Haven't found what you're looking for?