Product Safety Information Notice on the Clarks Vibrant children's shoe range
March 10, 2023
A safety issue has been identified with the Clarks Vibrant children's shoe range.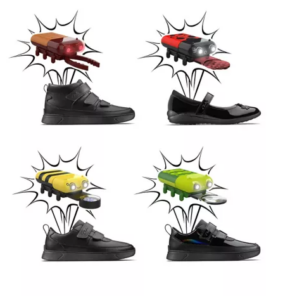 The product presents a risk of injuries. There is a risk of the toys breaking if left in the shoe, leading to ingestion hazards from small parts potentially including the button cell battery.
The toys, known as 'Find its', are torches in the form of insects and bugs. The brand is Clarks. The type/number of models are Vibrant Trail K Black Leather 26162072, Vibrant Glow K Black Patent 26162161, Vibrant Trail K Black Patent 26162242, Vibrant Glow K Black Leather 26162262 and Vibrant Oak K Black Leather 26162863. All toys included with the stated product codes are potentially affected.
There are approximately 3,787 potentially affected products in the Republic of Ireland which have been purchased from various retailers.
What to do:
Customers should remove the toy from the sole if they have not done so already. The toy can be accessed by lifting the insole. The toy can be disposed of in line with local council guidelines for disposing of small electrical items/batteries. There is no fault with the shoes themselves and they are perfectly safe for children to continue to wear once the toy has been removed.
For further information regarding this product safety information notice please see the Clarks information here.
Return to Product Recalls
Haven't found what you're looking for?