Product Safety Information Notice on Mini teddy bear key rings sold on the Joom platform
August 18, 2023
A safety issue has been identified with a Mini teddy bear key ring sold on the Joom platform.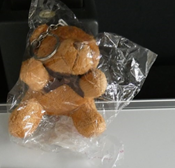 The risk reported to the CCPC is that of choking and suffocation. The metal ring and chain are easily detachable. This could result in a child choking on these parts. The bag from the product does not meet the relevant safety standard and could result in suffocation.
The type/number of model is QU087zND8 / A0042d0302 / 2022-04-27. The brand, batch number and the barcode are unknown.
The number of products sold on the Joom platform is unknown, however, given the online availability of this product, it may have been sold to customers in the Republic of Ireland.
What to do:
If you purchased one of these products, please discontinue use immediately and discard the product. Purchasers of these products from the sellers who placed them on the Joom platform will be alerted by Joom of this issue. You may wish to contact Joom or a seller to see if there are any remedies available to you. This can be done via chat with the Joom support team on the Joom platform.
Return to Product Recalls
Haven't found what you're looking for?