Product Safety Information Notice on certain IKEA LETTAN mirrors
January 19, 2023
A safety issue has been identified with certain IKEA LETTAN mirrors.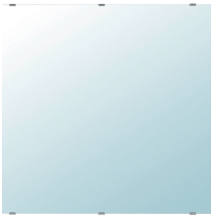 The product presents a risk of injury. Incorrect material was used in the manufacturing of some wall fittings. The fittings that attach the product to the wall can break. This leads to the product falling from the wall and a person in the vicinity when the mirror falls can be hit by the mirror, posing head injury, cuts and laceration hazards.
The brand is LETTAN. The affected mirror has date stamps before and including 2105. The date stamp is located at the back of the mirror. The affected product was available for purchase from February 2021.
There are approximately 8,362 affected products in the Republic of Ireland.
What to do
Customers should stop using the product immediately and contact IKEA to order the replacement wall fittings free of charge. Proof of purchase is not required.
To order the replacement wall fittings free of charge, to obtain the mirror fitting replacement instructions, for affected article numbers or for further information regarding this recall please visit the IKEA web site at https://www.ikea.com/ie/en/customer-service/product-support/recalls/lettan-mirror-pub9537a970 or call IKEA Customer Services on 01 541 3302.
Return to Product Recalls
Haven't found what you're looking for?