Product Safety Information Notice on Cooke & Lewis Gas Hobs, Gas Supply Elbow Joint
July 14, 2023
A safety issue has been identified with B&Q Ireland Limited Cooke & Lewis branded Gas Hobs Gas Supply Elbow Joints, manufactured after May 2019 and which may be installed in domestic settings and the leisure market (holiday homes, caravans and boats).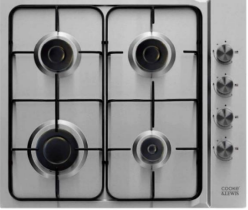 The gas supply elbow joint from the gas hob to the gas supply may fracture, which can cause gas to leak through the fracture. This presents a risk of  burns, fire, explosion and poisoning from inhalation which could pose a risk to health, or even death.
The brand is Cooke & Lewis. The model number is CLGH65ALL. The barcode is 5059340158020. The batch number is unknown.
The hob was also supplied as part of a hob and oven pack. The model number is CLOPGH65. The barcode is 5059340157993. The batch number is unknown.
There are 38 affected products in the Republic of Ireland.
What to do:
It is vitally important that consumers do not use their gas hob. The gas hobs above must be urgently inspected and modified. This will be conducted free of charge by a Registered Gas Installer.
If Customers are affected by this issue they can contact the B&Q helpline at 1800 946 327 (Monday to Friday 8.30am–8pm, Saturday 9am–5pm and Sunday 10am–4pm).
In the meantime, if you smell gas please contact Gas Networks Ireland 24 hour emergency number on 1800 20 50 50.
Return to Product Recalls
Haven't found what you're looking for?