Product Safety Information Notice on Aaron Outdoor PIR Lantern
September 3, 2021
A safety issue has been identified with the following Aaron Outdoor PIR Lanterns which were available in Argos stores: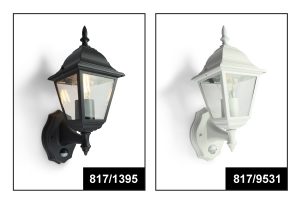 There is an issue with the installation instructions with the outdoor lanterns, which instructed that the lanterns are not required to be earthed.  This product must be earthed. If fitted according to the instructions the products are unsafe and there is a risk of electrocution.
The brand is Zinc. The type/number of the model are 817/1395 and 817/9531.
The product was sold in Argos stores.
What to do:
If you followed the instructions or are unsure whether it is earthed, do not attempt to open the lantern to check. Switch the lantern off and do not use.
Please contact the repair agent 0800 Repair (details below). They will arrange to check the installation of your lantern and earth it if required, at a time and date convenient to you.
In the unlikely event the engineer is unable to make the lantern safe, he will offer to uninstall the lantern. You can then return the lantern to an Argos store for a full refund of €24. You will not require a receipt.
See below for a new set of correct instructions, please dispose of the original incorrect instructions.
https://www.argos-support.co.uk/8171395-coast-classic-4-panel-pir-lantern-black
Contact by email, including a telephone number that you can be contacted on, as follows:
Opening hours are Monday to Friday 9am – 5pm.
Return to Product Recalls
Haven't found what you're looking for?