Product Safety Information Notice on a YCOO – Silverlit Electric Robo Kombat Balloon Puncher Toy sold on the Amazon platform
March 30, 2023
A safety issue has been identified with a YCOO – Silverlit Electric Robo Kombat Balloon Puncher Toy sold on the Amazon platform.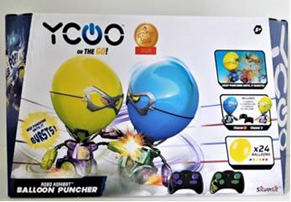 The risk reported to the CCPC is that of Chemical as a child may be exposed to nitrosamines when touching and / or putting the balloons in the mouth. Some nitrosamines may increase the risk of cancer if children are exposed to above acceptable levels.
The brand is YCOO – Silverlit. The type/number of model is Item No. 88038, Serial No. PG-88038-IN-00. The batch number is 182B0A. The barcode is 4891813880387. There are two Amazon ASIN numbers which are B089H1PV25 and B08DNZJ2CP.
The product was sold online through Amazon platform. There are approximately 245 affected products in the Republic of Ireland.
What to do:
If you purchased one of these products please stop using the product immediately and keep it out of the reach of children. You may wish to contact Amazon to see if there are any remedies available to you. This can be done via your user account on Amazon.
Return to Product Recalls
Haven't found what you're looking for?