Product Safety Information Notice on a Vevor Heat Press Machine
September 14, 2023
A safety issue has been identified with a Vevor Heat Press Machine.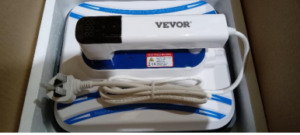 The risk presented by this product is electric shock. The product is inadequately earthed and accessible metal parts can become live which can lead the user to getting an electric shock.
The brand is Vevor. The product carton numbers are G3355-BXSTHJP1210-BU001V2, RVG3355-220808-0014-990. The barcode and batch numbers are unknown.
There are approximately 3 affected products in the Republic of Ireland.
What to do:
For more information regarding this product safety information notice please see link to the Vevor web page linked here.
Return to Product Recalls
Haven't found what you're looking for?