Product Safety Information Notice on a toy engineering truck
April 13, 2022
A safety issue has been identified with the following H87yC4ra Mini Engineering Kids Truck which was sold online through Amazon.co.uk, and may have been available through other stores or marketplaces or other Amazon websites.
A safety issue has been identified with the affected products, where the toy packaging doesn't comply with legal requirements. In the event of the packaging covering the mouth and/or nose of a child, suffocation may occur.
Given the availability of this product, it may have been sold to customers in the Republic of Ireland.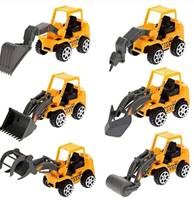 What to do:
If you believe that you may have purchased an affected product, discontinue use immediately and discard the product immediately. You may wish to contact the online store from where you purchased this product to see if there are any remedies available to you.
Return to Product Recalls
Haven't found what you're looking for?