Product Safety Information Notice on a Mizzie the Kangaroo Natural Teething Toy sold on the Amazon platform
March 22, 2023
A safety issue has been identified with a Mizzie the Kangaroo Natural Teething Toy sold on the Amazon platform.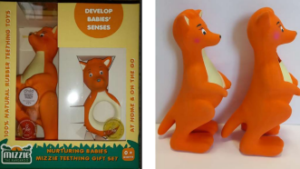 The product presents a risk of asphyxiation as the large kangaroo teether is of a certain shape/size that could press on the back of the throat of a small child who is too young to sit up unaided. This means that it could become impacted in their airway and potentially cause a blockage.
The brand is Mizzie the Kangaroo. The model is 2021-MTK-012. There are three Amazon ASIN's which are B00E7YOG6Y, B08FC43FKQ and B08VWWF6P1. The barcode and the batch number are unknown.
The product was sold online through the Amazon platform. There are approximately 44 affected products in the Republic of Ireland.
What to do:
If you purchased one of these products please stop using the product immediately and keep it out of the reach of children. You may wish to contact Amazon to see if there are any remedies available to you. This can be done via your user account on Amazon.
Return to Product Recalls
Haven't found what you're looking for?