Product Safety Information Notice on a Blue IOKUKI Climbing Rope/Safety Rope sold via Amazon
March 9, 2023
A safety issue has been identified with a Blue IOKUKI Climbing Rope/Safety Rope sold on the Amazon platform.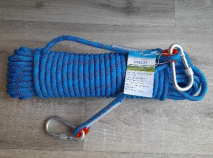 The product presents a risk for injuries as the product was not supplied with the required compliance documentation or markings to demonstrate that it had been adequately tested which may increase the risk to the consumer that the product may not perform as expected when relied upon to protect them from harm when climbing.
The brand is IOKUKI and the Amazon ASIN number is B086W5YWGM.
The product was sold online through the Amazon platform. There are approximately 4 affected products in the Republic of Ireland.
What to do:
If you purchased one of these products please stop using the product immediately. You may wish to contact Amazon to see if there are any remedies available to you. This can be done via your user account on Amazon.
Return to Product Recalls
Haven't found what you're looking for?