Product Safety Information Notice on a 1pc Bear Design Pet Plush Toy sold on eur.shein.com
February 7, 2023
A safety issue has been identified with a 1pc Bear Design Pet Plush Toy sold on eur.shein.com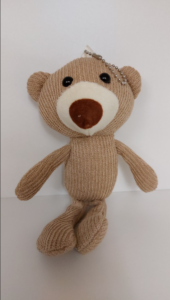 The risk associated with the product is that of choking. The toy is described as a Pet Plush Toy however it is attractive to children. It contains small parts (eyes and metal chain) which can easily detach. As a consequence, a small child may put them in the mouth and choke.
The brand is Unknown. The model type/model number is B220914026510-1. The barcode is Unknown.
The product was sold online through https://eur.shein.com  and there are approximately 12 affected products in the Republic of Ireland.
What to do:
If you purchased one of these products, please discontinue use immediately, discard the product immediately and keep it out of the reach of children. SHEIN will refund the purchase price to you. If you wish to contact SHEIN for any concerns or questions about this product this can be done via your user account on the platform.
Return to Product Recalls
Haven't found what you're looking for?