Product Safety Information Notice for a 'Hauck' branded Mac Baby Deluxe high chair
August 11, 2020
A safety issue has been identified, whereby, it is possible that this product may present a serious risk to very young children (0-36 months). A potential risk of injury, strangulation and/or suffocation exists. If the harness is not used, there is a risk that the child may slide through the leg opening in the high chair. This could result in the child becoming stuck.
There are several model, colour, and design variations of this high chair.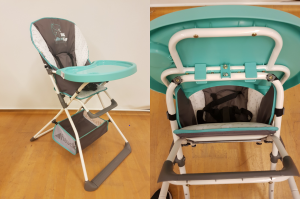 What to do:
It is not confirmed whether this product has been distributed in the Republic of Ireland, however given online availability and the free movement principals within the EU, this remains a possibility.
If you believe that you may have purchased the affected product, discontinue use immediately and keep it away from children. You may wish to contact the online store from where you purchased this product to see if there are any remedies available to you.
Return to Product Recalls
Haven't found what you're looking for?