Primark Limited recalls Scented Stampers (8 Pack)
July 23, 2021
Primark Limited is carrying out a voluntary recall of its Scented Stamper Pens (8 Pack).
A safety issue has been identified with the following toy product which was available in Primark stores: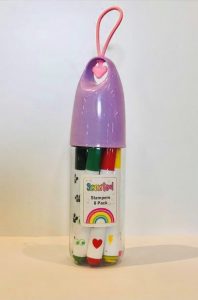 Higher than permitted levels of the allergenic substance, Benzyl Alcohol, have been detected in the purple coloured scented stamper pens and this can potentially lead to an allergic reaction if already sensitized.
The brand is Primark. The batch number is 9799701/25-06-04 and the bar code is 9182366093509. The product was on sale in Primark stores from 15 January 2019.
The scented stamper pens (8 pack) were sold to consumers in the Republic of Ireland.
What to do:
If you believe that you may have purchased an affected product, discontinue use immediately and keep it out of the reach of children.
If you have purchased this product then please return it to any Primark store where you will be offered a full refund.  You will not be required to provide proof of purchase.
Return to Product Recalls
Haven't found what you're looking for?