Prestige Smartplus pressure cooker recalled
April 27, 2012
Meyer Group Limited is voluntarily recalling the lids of the Prestige Smartplus stainless steel pressure cooker model 57050, which has been on sale since 2004, due to a fault with the pressure regulator.
Affected cookers are marked on the base with the Prestige brand, model number 57050, and date marks between 0401 (January 2004) and 1202 (February 2012).
No other Prestige pressure cookers or model numbers are affected.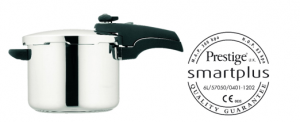 What to do:
If you have one of these pressure cookers stop using it immediately and contact the Prestige freephone helpline on 1800 805 698 (8am to 8pm, 7 days a week) to arrange for a replacement lid to be provided free of charge.
For further information on this recall visit www.prestige.co.uk
Return to Product Recalls
Haven't found what you're looking for?