Phil & Ted safety alert on Metoo table chair
November 28, 2011
Clever Clogs, in conjunction with Phil & Ted, are offering a replacement kit on the Metoo table chair for babies and young children sold before March 2010. They have discovered that this particular product does not contain the rubber end caps which can possibly result in the metal clamps sliding off their support. The pre-March version can be distinguished by the exposed aluminium table top clamps, shown in the picture below.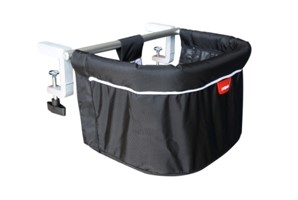 Clever Clogs have sold 650 of the table chairs for babies and young children. There have been no reported incidents in Ireland.
What to do:
If you have purchased the pre-March 2010 version, contact Clever Clogs on (01) 828 4823 to get an upgrade kit. Alternatively you can go to their website, where they will arrange to send one out.
Return to Product Recalls
Haven't found what you're looking for?