Out of The Blue Recalls Toy Slime – 'Knet Schleim Dinsoaurier'
October 30, 2018
Out of The Blue are carrying out a voluntary recall of the toy slime called 'Knet Schleim Dinsoaurier'. This product is an orange toy slime containing a dinosaur skeleton figurine, as shown in the photograph below.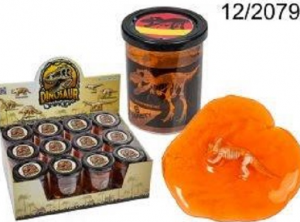 An excessive quantity of boron has been detected in the product and therefore, this product does not comply with the relevant legal safety requirements.
What to do:
If you believe that you have purchased this product, you are advised to stop using it immediately and keep it out of reach of children.
You should return it to the retail shop from where you purchased it and you will be provided with a full refund.
Return to Product Recalls
Haven't found what you're looking for?