OSRAM GmbH Recalls Ring RPPL360 Fast Charge Lithium Jump Starter
April 14, 2023
OSRAM GmbH is carrying out a recall on the Ring RPPL360 Fast Charge Lithium Jump Starter.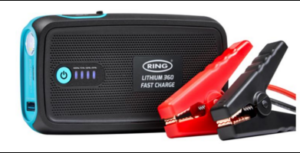 The risk reported to the CCPC is that of burns. The product can short circuit and cause overheating. If a consumer touches the overheated product it could lead to burns.
The brand is Ring. The model/ type of model is RPPL360. The batch numbers are 38/21 and 05/23. The barcode is 5055175250151.
There are approximately 80 affected products in the Republic of Ireland.
What to do:
Customers should stop using the product and contact the place of purchase for a full refund. Customers can also contact Ring on 0113 213 7389 or email ordering@ringautomotive.com.
Return to Product Recalls
Haven't found what you're looking for?