Oberalp SpA recalls Wild Country SUPERLIGHT ROCK
April 6, 2023
Oberalp SpA is carrying out a recall of Wild Country SUPERLIGHT ROCK.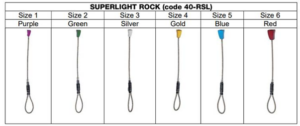 The risk presented by the product is Injuries. When the product is exposed to high salt concentrations and/or humid climate with saline atmosphere for an extended period of time corrosion may occur. This corrosion can significantly reduce the holding force therefore becoming dangerous for a climber.
The brand is Wild Country. The type/number of model is Superlight Rock. The barcodes are 5033286020672, 5033286020689, 5033286020696, 5033286020702, 5033286020719, 5033286020726 and 5033286020733.
There are approximately 2 affected products in the Republic of Ireland.
What to do:
Customers should stop using the product and follow the instructions to get a new product here.
For more information regarding this recall please see the website here or email them on support_int@wildcountry.com.
Return to Product Recalls
Haven't found what you're looking for?