NEXT Retail Ltd recalls NEXT Infant T-Bar Patent PU Bow Shoe
May 23, 2023
NEXT Retail Ltd is carrying out a recall of NEXT Infant T-Bar Patent PU Bow Shoe.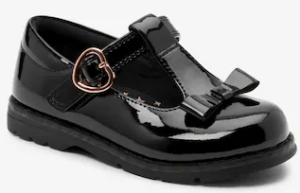 The potential risk associated with the product is that of injuries as the Velcro on the shoe may fail causing the strap to become undone creating a tripping hazard which could lead to cuts or abrasions.
The brand is NEXT. The type/number of model are T36725 and A73410. The batch number and the barcode are unknown.
There are approximately 336 affected products in the Republic of Ireland.
What to do:
If you believe that you may have purchased an affected product, discontinue use immediately and keep it out of the reach of children.
Please contact Next Ireland to arrange a full refund.
Return to Product Recalls
Haven't found what you're looking for?