NEXT Retail Ltd recalls Cole Corner Bench Set
July 27, 2023
NEXT Retail Ltd is carrying out a recall on Cole Corner Bench Set.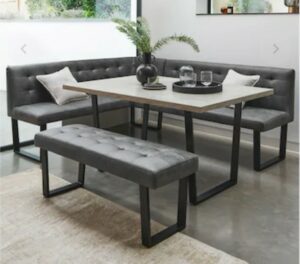 The risk associated with the product is Injuries. The fault with this product is with the construction of the legs as there is a risk of the legs collapsing when the product is in use. A consumer sitting on the bench would fall and potentially hit their head on surrounding objects. This can result in injuries.
The brand is Next. The type/number of model is Cole Corner Bench Set. The item numbers are 606040, M75792, C45795, 615695, C48235 and T29276. The batch numbers are IP8447432, IP8445340, IP8448350, IP8447377, IP8447445, IP8447115, IP8445421, IP8447649, IP8447637, IP8448334, IP8447429, IP8447335, IP8447157, IP8447102, IP8445337, IP8447458 and IP8445447. The barcode is unknown
There are approximately 3 affected products in the Republic of Ireland.
What to do:
If you believe that you may have purchased an affected product, discontinue use immediately.
Please contact Next Ireland to arrange a refund.
Return to Product Recalls
Haven't found what you're looking for?