Neptune (Europe) Ltd recalls Chatham Floor Lamp
October 30, 2020
Neptune (Europe) Ltd is carrying out a voluntary recall of its Chatham Floor Lamp product. Affected products were sold in Neptune stores and via the Neptune website. The affected product is a Neptune floor lamp model CHE-LAM-FLO-NI and is described as a metal floor lamp with lamp shade and circular base.
A safety issue has been identified whereby it is possible that due to the repeated use of the product, the wires and insulation material may become damaged. This may cause the protective sleeve to wear away and the live wire to come into contact with the metal casing. As a result, an electric shock risk cannot be ruled out.
This recall affects approximately 7 units in the Republic of Ireland.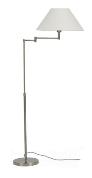 What to do:
Neptune (Europe) Ltd will directly contact all affected customers to inform them about this recall. Neptune have also highlighted the recall on their social media and in store.
If you believe that you have purchased this product then you should stop using it immediately. You should return the product to the retail outlet from where you purchased it. Neptune (Europe) Ltd can be contacted by email to jamie@neptune.com or alternatively, by completing the following online form.
Return to Product Recalls
Haven't found what you're looking for?