McLoughlins RS recalls Deville fan heater
December 21, 2011
McLoughlins RS is carrying out a voluntary recall of the Deville 2000w Fan Heater, Model No. DEF974014 sold in retailers in November and December 2011 due to a mechanical fault which could result in melting of the housing.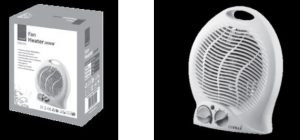 What to do:
If you think you have this product stop using it immediately and return it to the shop from where it was purchased for a full refund. You can also contact the McLoughlins Customer Helpline on 1890 929 971 from 8.30am to 5.00pm Monday to Friday. Note that the rates charged for the use of 1890 (LoCall) numbers may vary among different service providers.
Return to Product Recalls
Haven't found what you're looking for?