Kandytoys (Europe) Ltd recalls Bathtime Buddies Rubber Ducks
December 16, 2022
Kandytoys (Europe) Ltd is carrying out a recall of Bathtime Buddies Rubber Ducks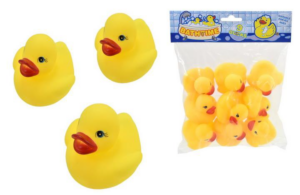 The risk associated with the product is a chemical risk. The product contains unacceptable levels of the chemical Bisphenol A (BPA) that are classified as unsafe for young children. BPA can have effects on the reproductive system and has been identified as a substance that disrupts the hormonal systems of humans.
The brand is Bathtime Buddies. The Type/model number is TY6422. The batch number is 8642. The bar code is 5033849277888.
There are approximately 1,344 affected products sold to consumers in the Republic of Ireland.
What to do:
It is important that any consumers who have purchased this product discontinue its use immediately.
Kandytoys (Europe) Ltd are asking any consumers who purchased the product to return the product to their place of purchase for a full refund.
For more information, consumers can contact Customer Services via telephone on +44 1395 234 600 or via email on enquiries@kandytoys.co.uk
Return to Product Recalls
Haven't found what you're looking for?