JDM Products Limited recalls G&BL Universal Multitravel Adapter
March 29, 2023
JDM Products Limited is carrying out a recall of G&BL Universal Multitravel Adapter.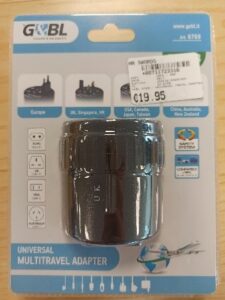 The product presents a risk of electric shock as the shutters of the adaptor are absent for the Australian socket system on the adaptor, which may cause the user to access live parts (e.g. the pin) and receive an electric shock.
The brand is G&BL. The type/number of model is Art. 6769. The bar code is 8011884067692. The batch number is unknown.
There are approximately 1,222 affected products in the Republic of Ireland which have been purchased from Harvey Norman.
What to do:
Customers should stop using the product and contact JDM Products directly at orders@jmdproducts.com or (01) 205 0500 to check if your model is affected and find out what remedies are available to you.
Return to Product Recalls
Haven't found what you're looking for?