Jack Wills Limited recalls Winter Warmer Gift Set and Mug and Sock Gift Set
August 2, 2019
Jack Wills are carrying out a voluntary recall of the Winter Warmer Gift Set and Mug and Sock Gift Set. The safety concern identified is in some instances the base of the mug could crack and break away from the mug when boiling water was added.
Affected gift sets were sold between September 2018 and February 2019.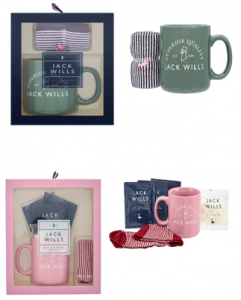 What to do
If you have purchased a Winter Warmer Gift Set or a Mug and Sock Gift Set, stop using the mug and return it to your nearest Boots or Jack Wills store at your earliest convenience for a full refund.
Alternatively, customer services can be contacted at the following numbers:
Jack Wills: (01) 702 8020
Boots: 1800 509 115
Return to Product Recalls
Haven't found what you're looking for?