ITX Retail Ireland Limited t/a Zara recalls Zara Kids Blue Baby Shirt with Sleeves
May 15, 2023
ITX Retail Ireland Limited t/a Zara is carrying out a recall of Zara Kids, Blue Baby Shirt with Sleeves.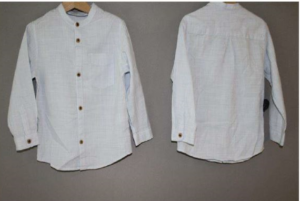 The risk associated with the product is that of choking due to insufficient attachment of some of the buttons on the garment, a button may become loose which may be swallowed by a child which could cause them to choke.
The brand is Zara Kids. The type/number of model is 6048/551/400/I2022. The bar codes are 0604855140009, 0604855140012, 0604855140018, 0604855140024, 0604855140036, 0604855140048, 0604855140060. The batch number is unknown.
There are approximately 591 affected products in the Republic of Ireland.
What to do:
If you believe that you may have purchased an affected product, discontinue use immediately and keep it out of the reach of children. Customers can contact Zara via their Customer Service team by calling 01 416 1024 or by visiting  any Zara store to process your return and subsequent refund.
Return to Product Recalls
Haven't found what you're looking for?